Making a difference
can be easy
Even the smallest donation can go a long way.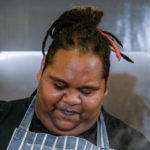 "NICI has saved my life. They have supported me through some of the toughest times I have endured, helping when I was homeless during my apprenticeship and guiding me in my career"
PIPECLAY PUMHOUSE RESTAURANT
If you or your company wish to invest in the education and skilled employment of indigenous Australians, please contact us.
Acknowledgement of Country
We acknowledge the traditional owners of the lands and waters upon which we work, cook, and bring people together